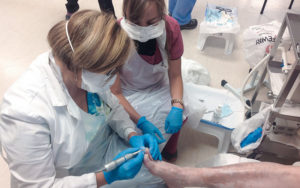 We hit the ground running with the successful launch of the brand new online PEDEd Advanced Foot Care Nursing Course offered through UFV.  There was a good vibe  in the air as the attendees mingled and shared their stories and discussed their career path goals with enthusiasm. The students were able to access the course online thanks to UFV who supplied the laptops and the Course Developer who was available to navigate the course through Skype.
Feedback was all positive and the student nurses are excited to meet again in January for the hands on clinical portion of the course. The highlight of the opening event was discovering that two nurses are  advancing their knowledge in foot care as part of their outreach and care for the marginalized and homeless people, once again proving that this is more than just a job for many.
Get Started! If you are an active and enterprising nurse looking for a new career, or you would just like a knowledge and skills refresher, we would love to connect with you!
Send us an email to: info@pededucation.com for more information on this great new course
Read More